(Our real time scheduler may take a moment to load above this text. Call 1 (888) 747 2287 if it doesn't load or you need help scheduling.)
Scroll down to read our Terms of Service.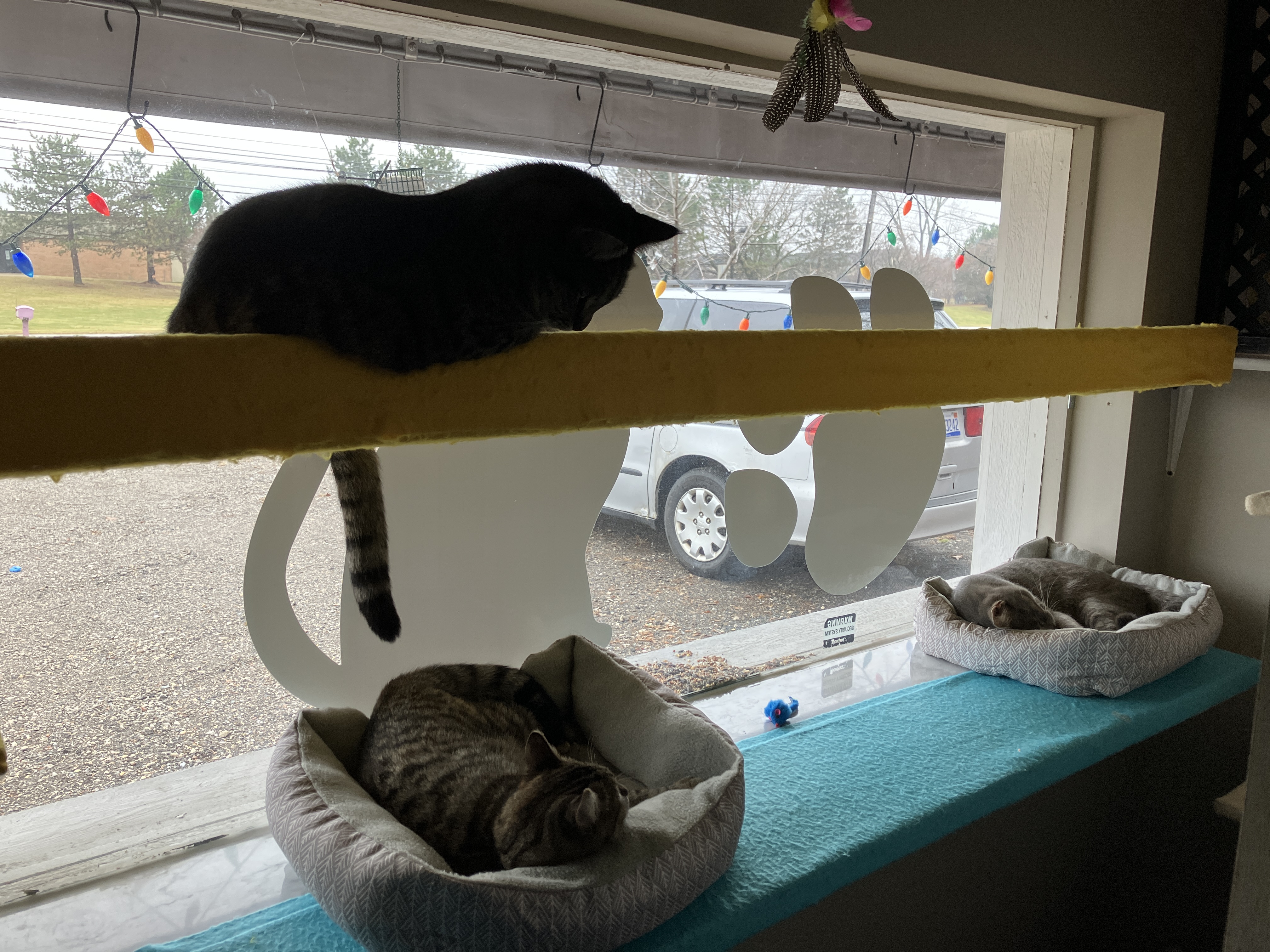 ---
Terms of Service
The Feline Hotel 1416 W Auburn Rd Rochester Hills, MI 48309
Pet owners must agree with the following to board at the Feline Hotel:
1.) The pet owner warrants that the animal(s) being boarded is/are in a fit and healthy condition. Owner will disclose any pet health concerns or past health issues or medical conditions. We ask you to trim your cat's nails the day before they arrive or have us help you trim them on arrival for free. If your cats nails become too sharp while staying here we may have to take them to a nearby groomer for a nail trim, the cost is $20.
2).Veterinary records: we require proof all cats are currently vaccinated for Rabies & Distemper (also called FVRCP) and have clean tests on record for FIV, Feline Leukemia and stool parasites (or dewormer given) within the last 3 years. For older cats who have received multiple vaccines already and owners who don't want to over vaccinate, you can alternatively provide proof of 3 past administration of Rabies/Distemper multi year vaccine sets. You must still have recent testing on file for FIV/FL/Stool.
*Cats who have access to the outdoors shall be given Revolution or other dewormer and flea tick treatment before arrival. We will check for evidence of parasites like fleas and ear mites at the time of check-in, all cats must be free from internal and external parasites. Pets with loose stool must show proof of a recent clear fecal exams or a dewormer. Pets with green or yellow discharge from eyes or nose must show proof of a recent vet exam or recent note from the vet explaining the discharge. Failure to do so will result in us having a house call veterinarian visit at your expense (~$300) or a transition to at your home pet sitting, or refusal to board. If your cat is not current on the required vaccines or has signs of loose stool or any green/yellow liquid discharge from the eyes or nose, or black "dirt" (mites) in the ears, please arrange for these things to be checked at your regular veterinarian in advance of your cat's boarding reservation. It is highly recommended you consult with your veterinarian to see if they recommend your cats also be vaccinated for bordetella, feline leukemia and/or feline immunodeficiency virus (FIV). A list of local veterinarians can be found on our website at https://catboardingdetroit.com/resources-for-local-cat-owners/ Please upload your veterinary records to us via your online account or send via email micathotel@gmail.com. If your cat has had a history of any ongoing medical issue please provide any related veterinary records from when the issue started.
3.) Whilst every care will be given to pets, and because of the random nature of pets, we will not be held responsible for any illness, injury, loss or damage to the pets, however caused, during their stay. Boarding is entirely at the owner's risk. Any veterinary treatment will be at the owner's expense. Owner agrees to pay any veterinary bills incurred immediately upon return for pick up.
4.) All cats over 6 months should be spayed or neutered. No intact cats over the age of 6 months will be accepted for boarding unless approved in advance.
5.) Any bedding or toys supplied by the owner are left at the owner's risk.
6.) Boarding fees are due when arriving in full. No pets will be released until full and final payment has been received. Short extensions of up to 3 days can be paid at the time of collection. Extensions of 4 days or more must be paid for at the time the term is requested by PayPal.
Any pet left for more than 10 days past pickup date without notice will be surrendered to any emergency contact listed. If your emergency contact doesn't respond within 72 hours we will surrender your pet to a no kill shelter or a non profit animal rescue group at our discretion. If your pet is surrendered, a surrender charge of $1000.00 will be added to your account, along with any additional fees incurred from the surrender or collections process, any unpaid boarding fees, and your account will go to immediate court collections with any extra fees or costs incurred via our attorney for the court collections process added to your balance.
7.) At times, we may take photographs of your pets to use for marketing, social media, etc. Photographs will be of the pet(s) only and there will be no breach of privacy (your name will never be disclosed in pet photographs). If you do not want pictures of your pets published please let us know.
8.) In the event of any delay in picking up, notification must be given at the earliest opportunity.
9.) Cancellations and Refunds: We aim to be flexible with cancellations but please understand that we arrange our schedules and available cat spaces based on your requests. If you cancel with little or no notice we are limited on the ability to take on another client. Please keep the following guidelines in mind regarding cancellations: Canceling any pet care or boarding service: 100% refund with 15 days or more notice; 50% refund with 14 days to 6 days notice, 0% refund with 5 or less days notice.
10.) We reserve the right to add, change, or modify these Terms of Service at any time.