Boarding Cat Tips! To have a successful stay at the Feline Hotel there are several things you can prepare to make your pets stay the best possible.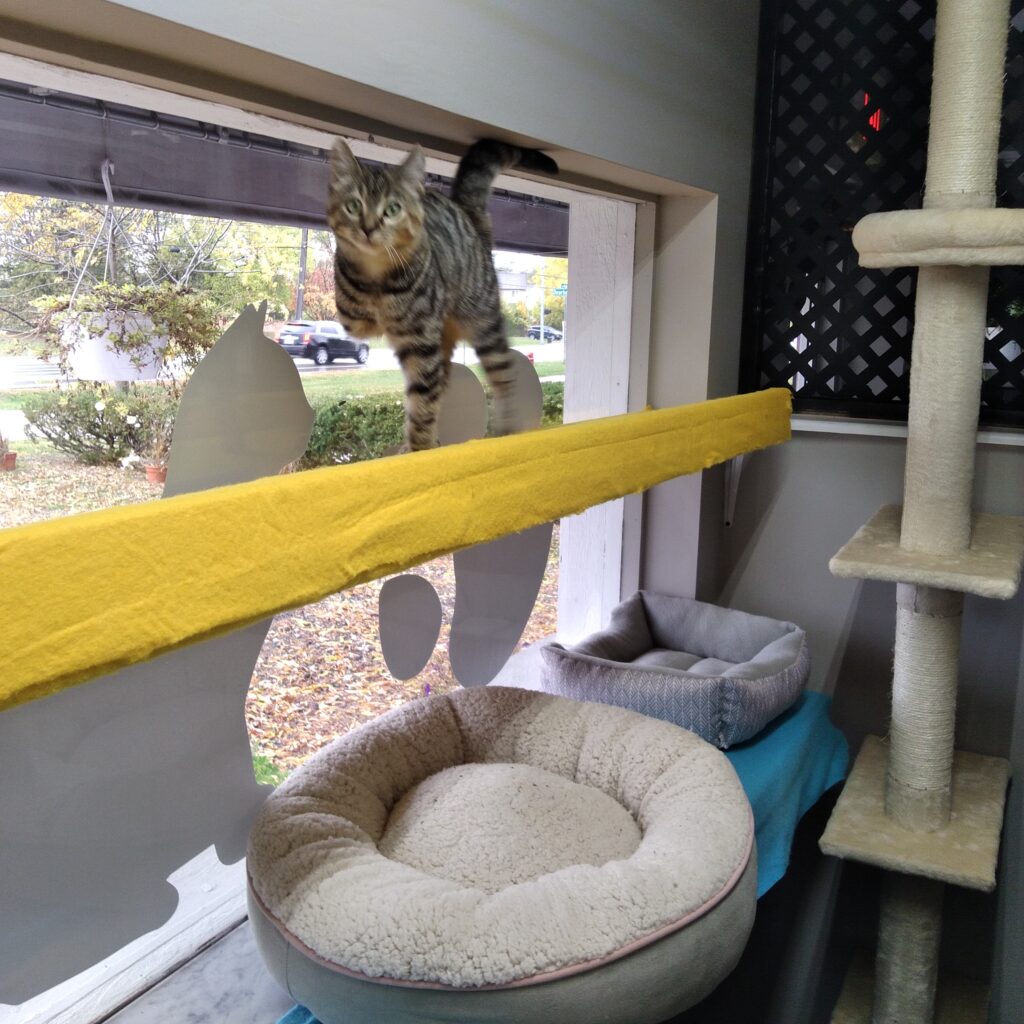 One of the first things to do to improve your cats stay, up to two weeks before your trip, is to utilize a feline calming pheromone plug in diffuser. At the Feline Hotel we recommend and utilize "Feliway multi cat". You can find this on amazon here. (not a affiliate link, just something we recommend)
You should also put your cats carrier out at least two weeks ahead of time, and it is recommended to leave it out as permanent part of your cats furniture with treats and food placed in it once in a while.
PRO TIPS: When you travel with your cat in the carrier, don't make a big deal about it. Don't let on that anything out of the ordinary is happening. Place something soft in the carrier to cushion your pets ride. If your cat is food motivated (and your are patient) use food to lure them in. (A laser pointer is another option to lure a cat in…or a string running through the carrier) Once the carrier is shut, a blanket over the carrier will help minimize noise and sounds that might disturb your pet.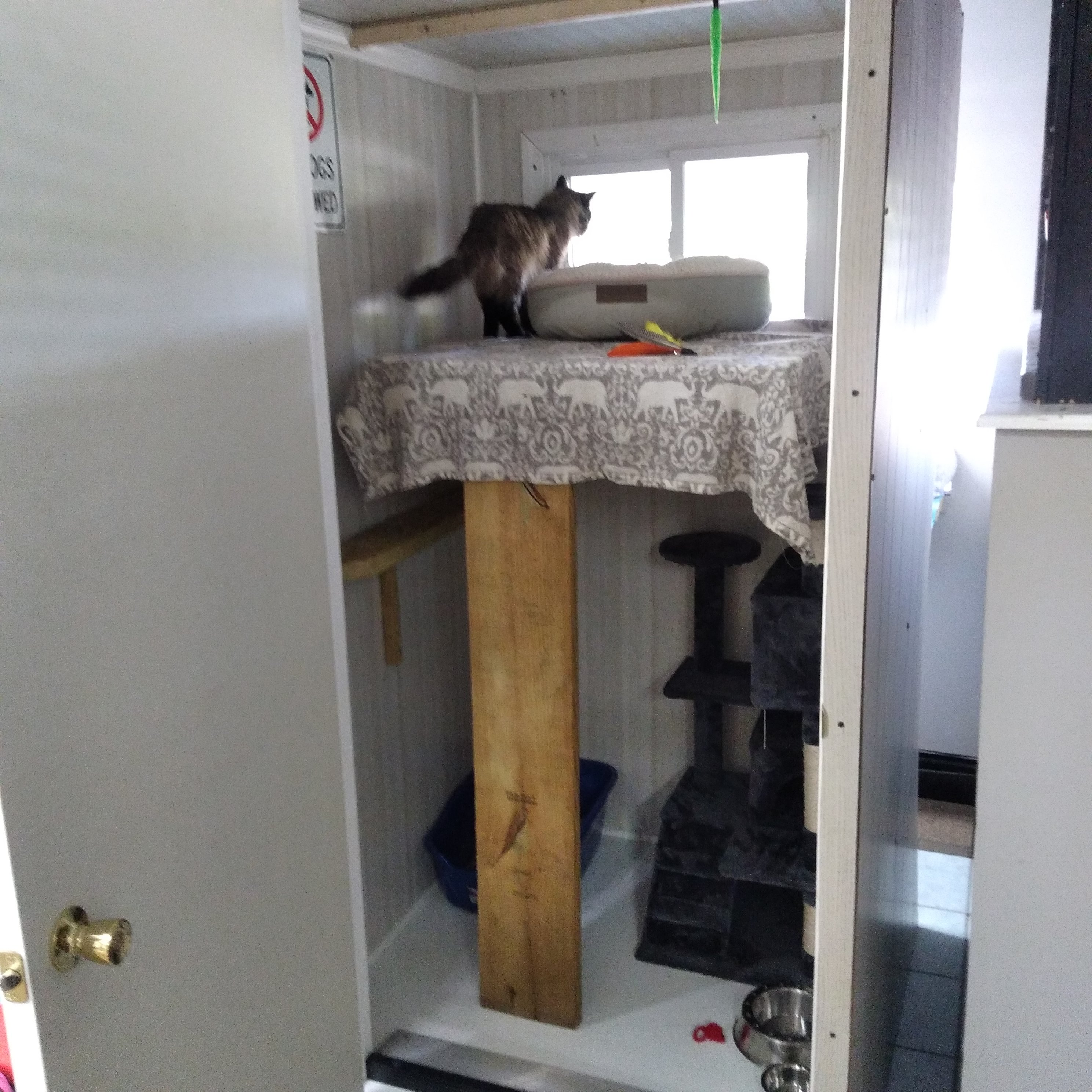 What should you bring? At minimum, you should bring the following 3 things: something that reminds them of home (bed, blanket, ect), food, and a carrier. You may also want to bring food dishes if your cat is a picky eater. If your cat is particular about using the litter box you may bring a clean litter box and litter they are used to.
What is group boarding like? …It's like a friends house that has a lot of cats… Group boarding is filled with custom built cat shelves, ramps, and walkways. Featuring a large window, lots of cats beds, TV, cat trees, aquarium, scratching posts, fuzzy mice, toys and more…it's paradise for cats.
What are the benefits of your private cat suites? Suites are over 6 feet tall and each has their own window with resting shelf, cat tree, toys, litter box, food, water, and regular staff interaction.
What if my cat isn't happy boarding? If your cat is not happy boarding you should have us visit your home daily for house & pet sitting service. Our house sitting service is also great for having someone check on your home, turning on lights or TV, and watering plants, plus bringing in mail and packages.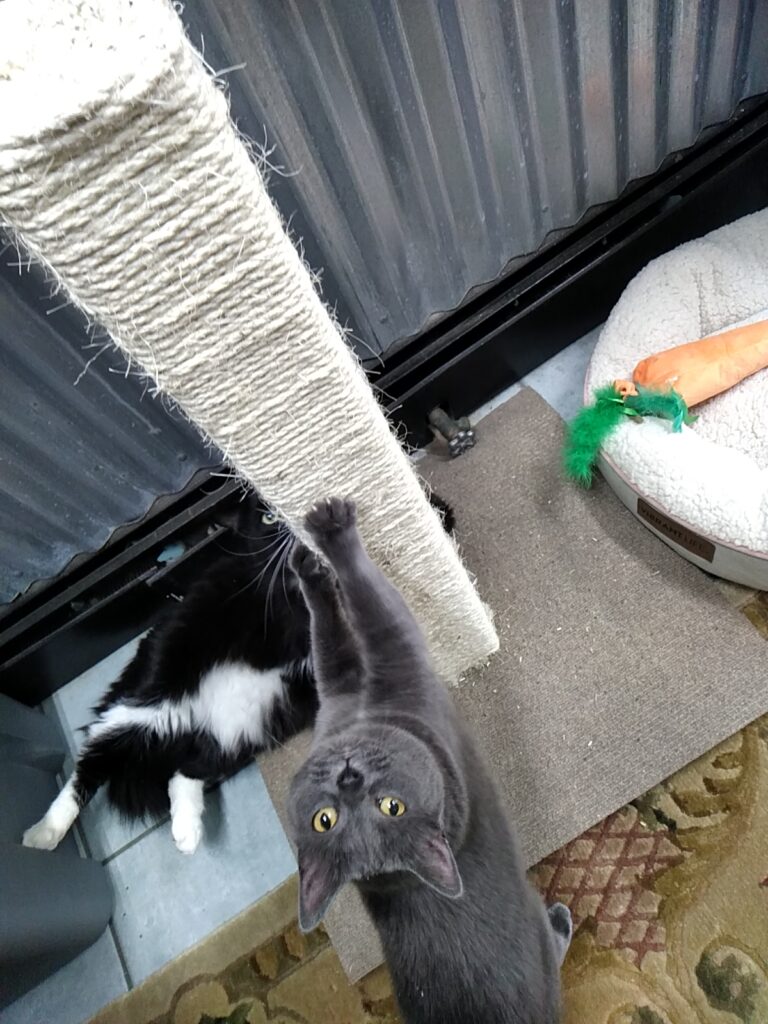 Once you've decided the best option for your pet please contact us. You can contact us by email micathotel@gmail.com or call 248.470.3013