Cat Boarding Services! The Feline Hotel of Rochester Hills
Cat Boarding Services | Best Group Cat Boarding Rooms
Cat Boarding Services, With over 20 years of professional pet sitting experience, we understand cat care. We have completed well over 10,000 pet sitting visits! We understand each cat needs different care options and we have developed multiple care options for your cats well being when you need to go out of town. These include private 7 foot tall, human size, cat only suites …or home like group rooms for friendly cats…and in your home pet sitting visits for cats that can't be boarded.
On arrival, all boarding cats have a temperature taken and are examined for any detectable illnesses or parasite including fleas. All boarding cats must show proof of vaccines including FVRCP and Rabies. We also ask for proof of a clear stool sample test within the last year and proof of a clear FeLV/FIV test within 5 years. FVRCP is for feline viral rhinotracheitis, calici virus and panleukopenia. These are all highly contagious and very serious diseases in cats. Rabies vaccine is state law and is for the protection not only of the pets, but also of the people that will be taking care of your pet. Rabies is 100% fatal to people and animals infected but not receiving early treatment.
Veterinary Records Checklist
We require proof all cats are vaccinated for Rabies & Distemper/FVRCP. 
We require proof of a negative FeLV / FIV test for all cats within the last 5 years. 
We require proof of a negative stool sample within the last year.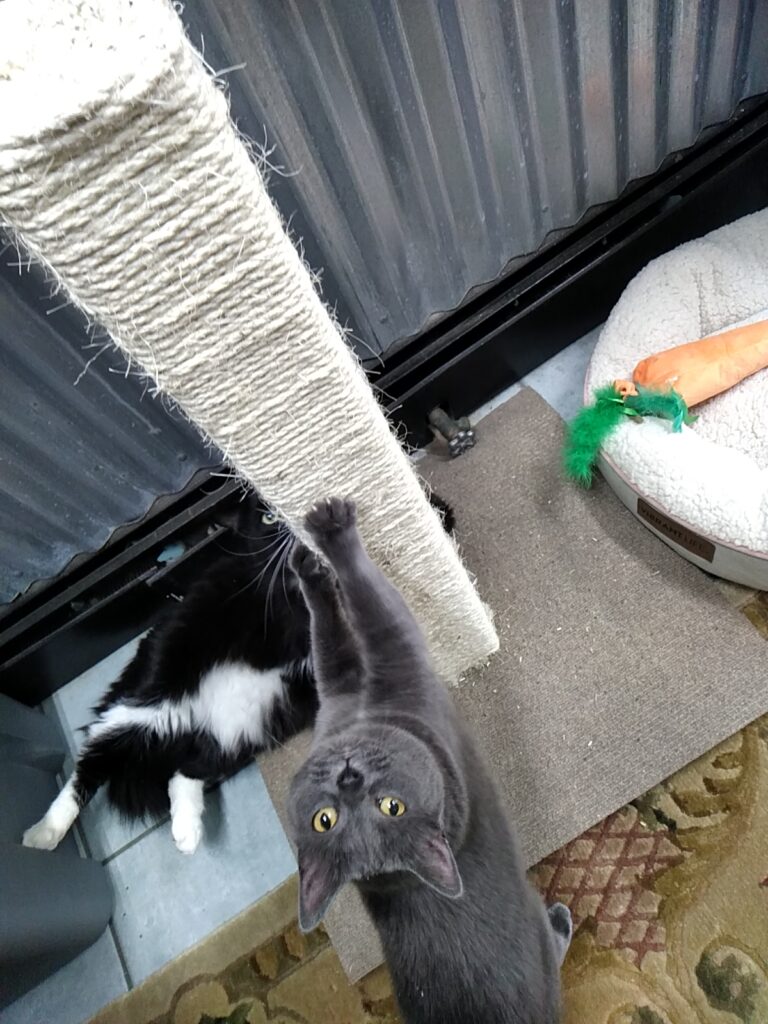 The Feline Hotel has custom built private cat suites where 1 to 3 cats can stay in style and safety. These are some of the largest private accommodations for cats in the area.
For social cats choose our group boarding room where your cat spends time with our staff and other cats in a large group room with home like furniture, cat trees, window shelves, and lots of attention.
All staff at the Feline Hotel are trained in Pet First Aid & CPR. Because of our training, we are more likely to recognize any issues early on and we are more likely to understand how to properly respond. This can save time, money, and pain & suffering. Are your Pet's people trained in pet first aid and CPR?
Behavior training is another reason to choose The Feline Hotel. The owner has roots as a Michigan Humane Society volunteer dog trainer and also a volunteer cat trainer for the Huron Valley Humane Society, plus 20 years of real world practice with over 10,000 pet sitting visits completed.
Contact us to learn more or to save your dates! Email micathotel@gmail.com or call 248.470.3013